Best dentist in the world! I love coming to this office! My smile is back. I am so appreciative! – Xathena
Give Me My Smile Back!
Have you ever wondered just what happened to your smile? Not that it's disappeared, of course; it's still there, just different! And an upcoming wedding, high school reunion, or perhaps an important business presentation has made you take a second look, wonder where that brilliant smile of your youth disappeared to, and what you can do bring it back.
The answer may be found in cosmetic dentistry. Procedures such as teeth whitening, composite bonding, porcelain veneers, and tooth-colored fillings preformed in our Lafayette office can do wonders to improve minor smile imperfections or provide a quick fix. And the good news is that cosmetic dentistry doesn't necessarily have to take a toll on your wallet. Many of the procedures available today offer substantial smile improvements without substantial expense.
These are just a few of the many, many cosmetic options available today, and chances are your dentist would be happy to review them based on your dental health and cosmetic needs. Check with us to learn how we can help give you the healthy, brilliant smile you desire!
Stained Teeth
Teeth that have lost their youthful, white appearance due to smoking, age, drinking coffee or tea, or eating staining foods like blueberry or cherry pie can usually be restored to a youthful brilliance through tooth-bleaching. Dr. Moss offers professional-grade, in-office tooth whitening, with a take-home kit that allows you to do touch-ups at home.
Imperfect Teeth
If your teeth have turned or shifted, or you've noticed small, unsightly spaces or gaps in between your teeth, your dentist may suggest composite bonding or tooth alignment. Through composite bonding, tooth-colored material is used to cover spaces and gaps or address minor shifts. Brief, in-office procedures can do wonders to cover these minor cracks or chips, fill in spaces, and improve your overall smile. If your teeth are getting crowded or overlapped, minor tooth aligners can help straighten out these areas in as little as 3 to 5 months.
Smile Makeover
Substantial cases of tooth misalignment, spacing, or discoloration may require more extensive procedures, and porcelain or composite restorations can help to achieve a substantial smile makeover. Porcelain veneers can mask stains when whitening won't do the trick, or cover teeth that have substantially shifted or turned. Composite tooth colored materials can be used to replace old metal fillings.
Smile Design Testimonial
My experience with you guys has been absolutely wonderful. I LOVE my smile and I get so many compliments all the time on how beautiful my smile is. I was scared to death of the dentist but Dr Moss and his staff are so nice and comforting and I never thought I would say this but it is now pleasant for me to go to the dentist. Their personalities make my day and Dr Moss is a terrific dentist. I love you guys!! Thanks again!! – Beatrice Pefferkorn
Related Cosmetic Dentistry Articles
Cosmetic Dentistry – A Time For Change
Join us as we review the myriad of possibilities available to you for cosmetic dental change. But the biggest part is not just how your smile looks, it's how you feel when you show it… Read Article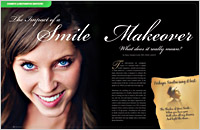 The Impact of a Smile Makeover
Americans are catching on to the emotional and social importance of a healthy, beautiful smile, and they're seeking out ways to improve their smiles. Learn why and what a change could mean for you… Read Article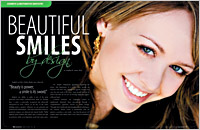 Beautiful Smiles by Design
The first in a series of articles dedicated to the "art and science" of designing a more appealing smile. One of the country's foremost leaders in cosmetic dentistry discusses how you and your dentist partner to create a great new look… Read Article
How And Why Teeth Wear
Are teeth supposed to last for a lifetime? And are humans designed to live for up to a hundred years? Given all the current improvements in the areas of medicine and health, both general and oral, people are not only living longer, but they are also keeping their teeth longer. This article will provide an overview of the "oral system" and one of its more common and important occurrences, tooth wear… Read Article