Everyone I came in contact with during my visits so far has been super. I was put at ease. Like the radio ads say, I was not put down when my teeth were looked at even though I had a lot of work to be done. I was extremely happy about that. Everyone was so nice and willing to help me with any of my questions. All in all, the experience was great. You definitely will get as much work on my teeth as I can afford, and eventually I hope to take care of all my problem teeth and get me smiling again. As for recommending your office, I will not hesitate to plug you and I mean that sincerely. Thanks again you guys, and I'll be back!! -James
Missing Teeth Equals Lost Bone
Losing one or more of your teeth can cause a gap in your smile, the loss of chewing function and the inability to eat a complete diet. Without the tooth to stimulate the jaw, the bone beneath it will begin to shrink in the same manner that muscle underneath a cast gets smaller. Since your facial bone supports the skin and muscle on top of it, losing volume can cause your face to look prematurely aged.
Dentures vs. Implants
Dental implants have become the premier solution for people who have lost a tooth or multiple teeth, and are now preferred over removable dentures or bridges. Dental implants completely simulate natural teeth in both form and function, and are ultimately a replacement for the root of the missing tooth. This permanent restoration allows you to floss, chew, and smile normally again, while it simultaneously preserves facial structure and prevents deterioration of the surrounding bone.
How Implants Work
The good news is that dental implants are an amazing solution simulating a natural tooth in form and function actually replacing the root of the missing tooth. Dr. Moss secures the dental implant in the bone and it then functions as the root of your tooth, bonding naturally with the jawbone and preventing deterioration of the surrounding bone and preserving facial structure. Most dental implants can be cleaned by brushing and flossing in the just the same way as natural teeth.
There are a variety of factors that determine if a patient is a candidate for implant restorations. Contact us at our Lafayette office today for an evaluation of your overall health and the health of your mouth to determine if you are a candidate for dental implants.
Related Dental Implant Articles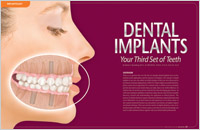 Dental Implants – Your Third Set of Teeth
A discovery fifty years ago paved the way for one of dentistry's most exciting, natural looking and successful tooth replacement systems. Learn how dental implants might just possibly change your life… Read Article
The Hidden Consequences of Losing Teeth
For those missing even one tooth, an unsightly gap is actually the least significant problem. What's of far greater concern is the bone loss that inevitably follows tooth loss. Dental implants fused to the jawbone can preserve bone, improve function and enhance psychological well-being. Learn how implants serve both as anchors to support replacement teeth, and preserve bone as one of the better preventive maintenance procedures in dentistry… Read Article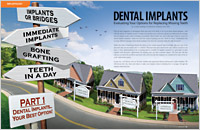 Dental Implants – Evaluating Your Options for Replacing Missing Teeth
As we guide you through the marketing hype you'll see that well planned implants most often require a team approach in assessing whether they're right for you. Not only are they a better treatment choice, they will last longer, possibly a lifetime, making them the right choice and the most cost effective option long term… Read Article
Implant Overdentures for the Lower Jaw
Implant overdentures represent a major change for the dental profession and the public. The lower jaw two-implant overdenture may be considered a more appropriate starting point over regular dentures… Read Article