Dr. Moss, I want to thank you for the wonderful work you did on my teeth. Just when I thought there was no hope you showed me there was. You fixed me up and I am glad I chose you to work on my mouth. There is nothing I would change about the work you have done on me. I could not have asked for a better dentist than you.  Thank you again for everything you did for me. – Lucille
Improvements That Are Worth the Wait
The need for full-mouth reconstruction may arise suddenly due to an unexpected accident or trauma to the mouth, or may be the result of years of poor dietary habits, clenching/grinding your teeth, medications or medical conditions, or an uneven bite. Whatever the cause behind it, a well-planned and implemented full-mouth reconstruction may help to alleviate the conditions – and their eventual results – that have contributed to years of suffering.
While it sounds intimidating, full-mouth reconstruction is simply a long-term series of procedures to address dental-related issues throughout your mouth (think of a contractor overseeing a major home renovation!). It's truly a team effort by Mr. Moss, his Lafayette team and the dental specialists we work with, all together in a variety of efforts. These may include rectifying chronic and usually painful problems associated with your bite, fixing teeth and/or jaw problems brought on by an accident or trauma to the mouth, or correcting damage caused by years of neglect or regular exposure to acidic foods/beverages, acid reflux, clenching/grinding of teeth, or other damaging habits.
Full-mouth Reconstruction Procedures
Whatever you envision for yourself, today's technology can accomplish most anything. No matter what you would like done, however, your treatment will begin with a comprehensive examination from Dr. Moss. In this way we get to know you, your desires, and your needs. In fact, this will probably be the most thorough examination you have  ever experienced. The following are just a few of the areas we may address:
Orthodontics to correct bite or alignment problems
Dental implants or bridges to replace missing teeth
Porcelain veneers to mask stained teeth or cover teeth that have shifted
Crowns to serve as anchors for a bridge or protect a tooth that is cracked, broken, or endodontically (root canal) treated
Changes to your gum-line to improve your smile or create more available tooth structure to hold a restoration
Tooth-colored fillings, inlays, or onlays to treat cavities or replace worn, unappealing metal fillings
Bite analysis in order to prevent a great gum recession, breaking teeth, or pain.
Full Mouth Reconstruction Cost
Costs and duration of treatment are determined by aesthetic preferences, reconstructive needs, and what you desire. Our focus is on longevity and predictability. In the end, you and Dr. Moss can make an informed decision that balances your financial capabilities with your oral health needs.
Full Mouth Reconstruction F.A.Q.s
1. I have so much decay, will I end up in dentures?
We sure hope not.  The average person should not be getting active decay after their early 20s.  If they are, the cause is usually an acidic environment, which helps decay-causing bacteria to thrive. If we can figure out what is causing this acidity and can use methods to raise the pH, we have a chance to stop the decay process.  Once stopped, we can then rebuild.
2. Will I have a beautiful smile after my first visit?
We would make that happen if we could! Unfortunately, a smile reconstruction can be a very involved process, and it will probably take a few visits. First we need to meet you, get to know you and the conditions of your mouth, and then make a plan for what you want.  Once we start treatment, it won't be long before we have you walking out with a beautiful smile customized just for you.
3. Can you help me smile again?
We sure hope so.  Let us know what you want and we will try to design something just for you.
Related Cosmetic Dentistry Articles
Cosmetic Dentistry – A Time For Change
Join us as we review the myriad of possibilities available to you for cosmetic dental change. But the biggest part is not just how your smile looks, it's how you feel when you show it… Read Article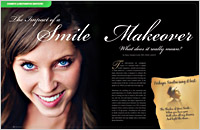 The Impact of a Smile Makeover
Americans are catching on to the emotional and social importance of a healthy, beautiful smile, and they're seeking out ways to improve their smiles. Learn why and what a change could mean for you… Read Article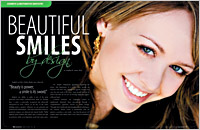 Beautiful Smiles by Design
The first in a series of articles dedicated to the "art and science" of designing a more appealing smile. One of the country's foremost leaders in cosmetic dentistry discusses how you and your dentist partner to create a great new look… Read Article
How And Why Teeth Wear
Are teeth supposed to last for a lifetime? And are humans designed to live for up to a hundred years? Given all the current improvements in the areas of medicine and health, both general and oral, people are not only living longer, but they are also keeping their teeth longer. This article will provide an overview of the "oral system" and one of its more common and important occurrences, tooth wear… Read Article