As long as I can remember, I was never comfortable smiling…until Dr. Moss gave me the courage to smile. Now I have a smile that I never had before. Everyone tells me how pretty my smile is and now I smile all the time. Thanks. – Angie
Veneers Restore the Luster
Over the years, you've enjoyed your morning coffee-and-doughnuts routine. But all of a sudden, you look at your smile in the mirror and realize the morning ritual – combined with the passage of time – has taken its toll on your teeth. You'd love to get back that brilliant smile of your youth, but doubt that whitening alone could do the trick. Smile design could be an avenue you might want to pursue.
If you are considering aesthetic improvements or perhaps options to restore your smile to its youthful appearance, check with us to see how your smile can be designed to look natural, healthy, and bright.
What are veneers for?
Some of our Lafayette patients may choose to target "problem" areas in their aesthetic zone (the top front teeth they reveal when they smile), and others may opt for a complete smile makeover that involves more than just their front teeth. Because of the way they are made, veneers aesthetic properties closely mimic those of a natural tooth. Serving as a customized option for patients looking to achieve a smile transformation on a small or large scale, veneers can be designed to match the shade and translucency of neighboring teeth.
For teeth that are aged or discolored, porcelain veneers may be the answer to hide years of wear or mask severe stains. Veneers and the technology behind designing smiles have evolved to meet the not just these, but many other aesthetic and restorative needs including:
Closing gaps between teeth that have shifted
Repairing teeth that are crooked or worn
Adjusting tooth shape or size
Fixing a gummy smile
How Veneers Work
Porcelain veneers have a glass-like texture that resists staining. On its own, a veneer is fragile, but when properly bonded to the tooth it can be as strong as enamel and provide an attractive, polished restoration for 10 to 15 years. And because veneers are so thin, it is likely that only a small amount of natural tooth will need to be removed to make room for the restoration. The amount depends, of course, on factors that include tooth position, your bite, and how your teeth are positioned in your mouth.
How Much Veneers Cost
While veneers are on the higher end of the spectrum, when it comes to cost (and they are likely not covered by insurance), they are extremely versatile.

Veneers F.A.Q.s
1. What is the difference between a crown and a veneer?
For a crown, the tooth is reduced 360 degrees, all the way around and from the top.  A veneer is reduced only from the side facing the lips or cheek. Crowns can also be porcelain or gold, while veneers are porcelain to better blend in with surrounding teeth.
2. What is the difference between a lumineer and a veneer?
For veneers, teeth are reduced from the cheek or lip side by about ½ to 1 millimeter(mm).  You need to be numbed for veneers,  and temporaries are placed.  For lumineers, teeth have little or no preparation.  No temporaries are placed and numbing is usually not required.
Related Porcelain Veneer Articles
Smile Design Enhanced with Porcelain Veneers
In part two of the series on Smile Design, Dear Doctor takes an in-depth look at Porcelain Veneers, a superior yet minimally invasive technique for smile enhancement. We'll explain not only when they're appropriate, but also when they're not… Read Article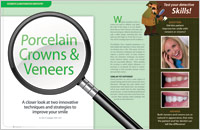 Porcelain Crowns & Veneers
A closer look at two innovative techniques and strategies to improve your smile. In many instances these two restorative techniques can produce nearly identical esthetic results, even though they are structurally different… Read Article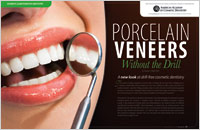 Porcelain Veneers – Without A Drill
No drilling — reality or ridiculous? A no-drill technique requires a second look, as new materials and concepts have created new esthetic possibilities. Reactions and opinions among dentists have ranged from absolute disbelief to moderate acceptance. This article gives hope and reasons for patients to get excited about this conservative drill-free cosmetic technique… Read Article