For years I never smiled. Not because I wasn't happy, but because of my yellow crooked teeth. A yellow mouth just isn't a wonderful attribute to show off to others. It wasn't until my wife, Brenda, went through the restorative process that Dr. Moss's staff offers, and got a new set of teeth, that I began to notice how much she smiled afterward. Her smile was so infectious that it led me to believe that the process might improve my appearance also. After the procedure was completed, I was amazed at the results but even more so at the number of compliments that I received on my new look and smile. My sincere thanks go out to Dr. Moss, Dr. Sherman and the staff members involved in this process. I would recommend this procedure to anyone in doubt about the benefits. What comes to mind is in the phrase, "Just Do It"; you will be pleased with the results in your appearance and may even learn to find that "Lost Smile" again like I did. -Tom
Thinking about whitening?
We all would love to have whiter, younger-looking teeth. We brush, floss, rinse, and go for our regular dental checkups, but years of wear and tear have taken their toll. Whether it's routine exposure to coffee or tea, tobacco, or staining foods like blueberry or cherry pie, our teeth can probably use some TLC to bring back that brilliant luster of our youth.
Teeth Whitening Options
Options to whiten your smile seem endless. A quick browse through the local pharmacy will reveal lots over-the-counter options: whitening toothpastes, mouthwashes, floss, strips, gels, and trays with a range of prices that appeal to penny-pinchers as well as those willing to splurge. And many of these products offer a guarantee: results similar to professional, dental-office whitening in just minutes a day over the course of several days or a couple of weeks, but at a fraction of the cost of a professional whitening session.
For those who would prefer to trust the expert – albeit more expensive – work of a pro, a trip to Dr. Moss's Lafayette office is in order for an in-office whitening experience. Dentists, too, can choose from lots of bleaching options (professional level) to help patients have the smile they want. The truth is, the older we get, the more difficult it becomes to whiten our teeth.
Teeth Whitening F.A.Q.s
1. What's the difference between the $1500 KoR and the $99 take-home whitening?
The $99 bleaching is excellent for younger patients.  However, once we get into our 30s and beyond, the surface enamel becomes thinner and not as porous and bleaching becomes increasingly difficult.  The KoR process is the best bleaching process we know about and it  involves three to four visits.  Both processes require regular monthly tune-ups in order to keep them white and combat the daily forces looking to stain our teeth.
2. How long does whitening last?
If you don't bleach regularly, like once every 4 to 6 weeks, bleaching will usually fade over time.
3. Will I have to bleach for the rest of my life?
For those over the age of 27, yes – at least one night every 4 to 6 weeks is standard.
4. How often should I touch up?
About one evening every 4 to 6 weeks.
5. Will my teeth be sensitive?
Some are, some aren't.  If you have receding gums and/or are normally sensitive to cold or sweets, you will probably have sensitivity issues.
Related Teeth Whitening Articles
Teeth Whitening – Brighter, lighter, whiter…
The subconscious impact of a white smile is radiant health, happiness, warmth and invitation. This phenomenon has been reinforced with the spread of American culture worldwide, where an especially white smile has even been coined a "Hollywood smile." Today brighter, lighter, whiter teeth have become a norm. Tooth whitening by bleaching is a successful, conservative, relatively inexpensive and safe alternative… Read Article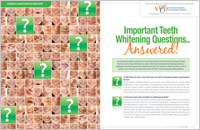 Important Teeth Whitening Questions Answered!
In Dear Doctor's interview with nationally noted teeth-whitening expert Dr. Van B. Haywood, he answers questions about bleaching techniques and safety in achieving the best possible results. If you are thinking about getting your teeth whitened at your dentist's office or doing it yourself at home, this is a must-read… Read Article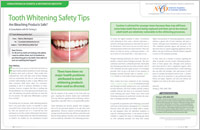 Tooth Whitening Safety Tips
There have been no major health problems attributed to tooth whitening products when used as directed. Many studies have confirmed this, and we will share some of these findings with you… Read Article